Rahel Halabe
Chapter 8b – Level Aleph Plus (Mid-Beginners' level)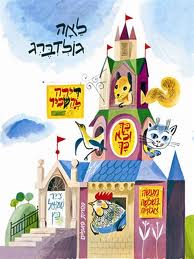 A Flat for Rent                           דירה להשכיר
Written by Leah Goldberg       כתבה לאה גולדברג 
Illustrated by  Shmuel Katz          צייר שמואל כץ  
Lea Goldberg (1911-1970) was a prominent figure in the Hebrew literary scene of the twentieth century. She was a prolific and versatile writer, a poet and playwright, a critic of theatre and literature, and a translator from Russian, French and German, a newspaper editor, a children's newspaper writer, a popular children's poet and writer, a professor of comparative literature and children's literature.  She produced more than 30 titles of prose and poetry for children, many of which are now considered the 'musts' of every Israeli child's book shelf and video and audio cassettes collection. Many of her poems for adults, and for children, have been put into music and are sung with passion.
דירה להשכיר , A Flat for Rent (to read English translation click on Flat for Rent ) is one of her most popular works.  The tenants of an apartment building are the fat hen, tidy black cat, busy cuckoo bird, and voracious squirrel. They are trying to rent out a flat, previously occupied by the mouse, who left suddenly. The potential tenants, who come to look at the flat, seem to like it, but each has reservations about one of the neighbours. The hard working ant will  not live with a 'lazy hen'. The motherly Rabbit  won't live with a cuckoo bird, who 'neglects' her offspring. The musically sophisticated nightingale can't stand the noise raised by the nut cracking squirrel. And worst of all, the white pig won't live with the cat, just because she is black. At last, comes the dove. She is not too impressed by the apartment, but finds merit in each of the neighbours and decides to live in their good and peaceful company.
This parable, modeled on folktales,  is written in rhyme and uses a basic repetitive model. For example, all the interviews with the prospective tenants follow the same basic pattern.
הנאים החדרים בעיניך  Do you like the rooms?                        
נאים  They are nice.                                                               
הנאה המטבח בעיניך Do you like the kitchen?                         
נאה  It is nice.                                                                        
אם-כן, שב אתנו!Then, dwell with us!                                     
לא. לא אשב.No, I won't!                                                       
למה   Why?                                                                           
השכנים אינם טובים בעיני….   I don't like the neighbours…        
The repetitive pattern diverges when each of the visitors justifies his/her reluctance to rent the apartment. They point to the neighbour they don't like. Their perception of her/him differs from the initial, neutral depiction of that neighbour by the narrator. The allegory is clear and raises issues concerning social and moral problems. Goldberg mirrors, through the animals in the story, stereotypical, presumptuous judgements, prejudice, lack of tolerance and racism found in the world of humans. All these important issues can certainly be discussed in class, albeit in a level-appropriate language and in a more concrete and less abstract manner.
The ant has long been the epitome and positive model of industrious existence:
לך אל הנמלה עצל, ראה דרכיה וחכם "Go to the ant, thou sluggard; consider her ways and be wise (Proverbs 6:6), and has appeared as such in numerous parables. She accepts her role with pride and harshly judges those who do not follow her example. The 'unemployed' hen is not working, so she must be lazy, and therefore not an appropriate neighbour for her. The narrator, however, while presenting the hen, tells  us that the hen stays in bed all day long, because "she is so fat, she can hardly walk."  When asked, students often agree that the ant may be right in her judgement, and that laziness is a possible reason for the hen's way of life; if the hen is lazy, maybe she does not clean her place, and we wouldn't want to live near a dirty person. Others add different possible reasons, which differ from a stereotypical image of the unemployed, as  being fat and unkempt: maybe she is sick; maybe she is old; maybe she works nights and sleeps during the day; maybe she has worked all her life and now has her pension; maybe she stays in bed, but reads and writes; and why is it important what a neighbour does in his/her home?
The rabbit, who sees herself as the epitome of proliferation and motherhood has her own prejudice towards the cuckoo bird. The cuckoo is known to lay her eggs in other birds' nests. The cuckoo, says the rabbit, deserts her offspring; her children are therefore neglected, scattered about and would be a bad influence on the rabbit's own bunnies. The narrator tells us that the cuckoo goslings do not even live with their mother, and never mentions anything about their bad behaviour. The narrator tells us though, that the cuckoo bird keeps visiting her children daily. The rabbit then, is using the bad influence excuse falsely and unnecessarily, thus, further tarnishing the cuckoo bird's reputation. Asked if they agree with the rabbit's negative judgment, students suggest in their basic Hebrew more possibilities, some of them more forgiving: maybe she is sick and cannot take care of her children; maybe she doesn't have enough money; maybe she takes drugs or has lots of boyfriends, and Social Services took the children; she might not be a bad mother as she does visit her children daily.
The nightingale, known for his beautiful voice, is a fine musician who is not ready to accept the slightest interference. His attitude is elitist and intolerant. For him, the sound of nuts being cracked by the squirrel is an exaggeratedly 'horrible, terrible, ear splitting' noise. He prides himself on enjoying only the highest forms of art, and his self importance does not allow him to acknowledge the simple, sensuous joy of the squirrel's way of life, as described by the narrator. When discussing what makes us choose a certain place to live in,  the students make a list of considerations: a nice house; a place that is beautiful, convenient, quiet, close to work, close to school; people like to live with neighbours who are like them; people do not want to hear music they don't like. etc.
The narrator, gives us a fairly neutral presentation of the neighbours, which leaves room for various speculations about their traits and ways of life. On the other hand, her depictions of the ant, the rabbit and the nightingale, which are the accepted high models of hard work and thrift, motherly care, and culture respectively, are  more determined and clearly satirical. These prospective tenants are depicted as haughty and arrogant, self righteous, judgmental, and insensitive. In her essay "The Positive Protagonist – Childhood Reading" (1977, pp. 99-101), she tells about her utter dislike as a child for perfectly positive protagonists with their unattainable high standards, and wonders if anything can be learned from these ideal flawless personalities. That said, the expectations of the ant, the rabbit and nightingale for the home they are looking for, are not uncommon among people. Students make the allegorical connection when compiling their list of considerations (see above). Indeed, the prospective tenants in the story are insensitive, and the criticized neighbours, the hen, cuckoo and the squirrel, each in her/his turn, are offended. Their behaviour or way of life is criticized, and they may or may not consider changing their habits. The neighbours therefore, as a group (the public opinion), accept the harsh comments silently. Goldberg then, is not depicting the behaviour of the prospective tenants as totally unacceptable. However, this neutral stance is very different from her attitude and that of the neighbours' reaction towards the pig.
The pig, associated with gluttony, greed and filth, doesn't mind the apartment. He has reservations about the kitchen which is too clean for his taste. When asked if he would like to take the apartment, he refuses, but not because of the kitchen. He bluntly declares that he is white through and through, and dwelling with a black cat does not suit him. This racist statement is not something that the neighbours are ready to put up with. The narrator doesn't even tell us that the cat is hurt by the pig's comments. At this point they are all enraged and chase the pig away; it does not suit them either to dwell with him! Goldberg's reluctant acceptance of common unsavoury, social attitudes depicted by the ant, the rabbit and the nightingale has its limits. Racism is certainly not included within them.
The happy end is reached thanks to the dove, a well recognized symbol of peace, love (Song of Songs) and security (Noah's dove), who prefers to ignore the shortcomings of the apartment in favour of the merits she finds in each of her future neighbours with which she wants to live in harmony.
The story can provide an opportunity to add cultural content through language learning by talking about Israel, the destination of most students who learn Hebrew. The students are usually aware of the multiethnic, multicultural make-up of Israel. The country has absorbed Jewish immigrants from all over the world with very different looks, customs, traditions, languages and ways of life, as well as including among its citizens Muslims and Christian minorities. In a simple, but not necessarily simplistic manner, students can discuss the tensions that may arise in the Israeli society and the lessons they might derive from Goldberg's work.
The story uses literary devices common in children's stories. The repetitive structure and rhyming are effective in imparting a first language to children, but are also very helpful in helping adults to learn a second language. Repetition eases comprehension of the simple plot, and rhymes allow better retention of vocabulary and syntactic patterns. The story addresses very young children, but is written in literary Hebrew. Goldberg does not shy away from using a higher register. She uses vocabulary and expressions drawn from classical texts and  that are not in use in every day speech: the general lexical choice, the interrogative ה , possession suffixes, expressions like, "  הנאים החדרים בעיניך?" (literally translated): "Are the rooms nice in your eyes" and    לא נאה לי ולא יאה לי "It does not suit me. It does not fit me", which echoes the Passover Haggada liturgy  כי לו נאה. כי לו יאה  . Goldberg sees children's literature as a medium through which children acquire and enrich language. CL fosters the development of linguistic sensitivity, ways of expression and style. The child, says Goldberg, absorbs the text in as a whole, rather than word by word. There is no need therefore, to refrain from difficult vocabulary, which eventually is absorbed and eases the child's way into a later deeper understanding when read more closely. (Goldberg, 1977, p. 68). Children listening to a story in their native language are flexible and open. They eagerly listen to a good story even when the words or grammar are not always familiar to them. They are capable of filling the gaps and eventually making sense of the new. The enduring popularity of Goldberg's works, such as 'A flat for Rent' for two generations or more, is the best proof. Unfortunately, most adult learners of L2 have lost this child-like openness and flexibility. They are more likely to feel insecure if they do not understand every component of the text in front of them. The original text of the story was therefore, adapted twice; once heavily for presentation and reading in class, and once lightly for optional further reading at home, before listening to the reading of the original text on CD.  The first adaptation conforms to a great extent to the Aleph Plus level.
Heavily adapted,listened to and read in class
Lightly adapted foroptional reading at home
Original textlistened to at home

האם את חושבת שהחדרים יפים?

יפים.

האם את חושבת שהמטבח יפה?

יפה.

את רוצה לגור אתנו?

לא.

למה?

אני חושבת שהשכנים לא טובים

האם החדרים נאים בעיניך?

נאים.

האם המטבח נאה בעיניך?

נאה.

את רוצה לשבת ולגור אתנו?

לא.

למה?

השכנים לא טובים בעיני.

הנאים החדרים בעיניך?

נאים.

הנאה המטבח בעיניך?

נאה.

אם-כן, שב אתנו!

לא. לא אשב.

למה?

השכנים אינם טובים בעיני
Much of the vocabulary used in the original story and the adapted version can easily be applied in a conversation, not only around the general topics discussed above, but also around concrete ones relating to home, such as: apartment, neighbor, room, door, floor, kitchen, windows, to travel, to write, to read, to come, to go, to live, to rent, to rent out, to open, to look, to hear, etc.
In any case, both adaptations did not tamper with the text beyond the sentence level, thus keeping intact the storyline, original structure and much of the artistic qualities of the story. The best of writers, with their artistic sense, says Goldberg, have managed to find the 'how' to write for children. They avoid the sentimental, false, two dimensional 'placard' depiction. A great work of art does not deal with only one question, it is characterized by the treatment of complex problems that concern both adults and youth (1977, p. 125).  Writing for children should answer to the same standards as writing for adults, creating a serious, sincere and sophisticated expression of emotional reality (1977, p. 58).  Indeed, Lea Goldberg practiced what she preached. and this story is certainly a text with themes that are suitable for the adult learner.
Giving students a short introduction to the author and her place in Modern Hebrew literature (and if time allows in longer courses, singing one of her poems put to music) can give the students an idea of the phenomenon of revitalization of a language, to which Lea Goldberg's generation of writers have contributed so much. This generation of writers not only offered children well written, pioneering literature in Hebrew, they also provided them, as adults, with a plethora of images, associations, and expressions basic to the flourishing spoken and written Modern Hebrew today. (Just googling   דירה להשכירA flat for rent produces an amazing array of sites quoting and borrowing from the story, from real estate ads, market analysis and advice, an ad for children's bedding with Shmuel Katz's inseparable illustrations to the story; to the depiction of current social tensions and trends in numerous rewritten versions parodying: the Tel Aviv social scene, the religious scene, and a high school scene (even a Jewish Moroccan version can be found.) An excellent example of intertextuallity on a literary level, using quotes from the story can be found in David Grossman's novel (now a movie as well)  מישהו לרוץ אתו 'Someone to Run With'. Tamar and Sheli, two street girls meet in a suspicious shelter, housing and exploiting young artists, mostly drug addicts:
"הנאים החדרים בעינייך?" שאלה שלי בחיוך.
"האמת? החדרים אינם נאים בעיני", השיבה תמר בציטוט, וראתה זיק צוהל בעיניים שמולה.
"ובכן, לא תשבי איתנו?"
אשב ואשב, בחפץ לב!" חייכה תמר, "כי השכנים טובים בעיני", וקיבלה משלי חיוך רחב כמו    חיבוק.
"ברוכים הבאים לגהינום", אמרה שלי….  (Grossman, 2000, p. 134)
"'Are the rooms nice in your eyes?'" Sheli asked with a smile.
"Truly? 'The rooms are not nice in my eyes'", Tamar quoted back and saw a
merry sparkle in the eyes in front of her.
"'Then, you will not stay with us'."
"' I will stay with a willing heart!'" Tamar smiled – "'because the
neighbours are nice in my eyes'", and received a smile as wide as a hug from
Sheli.
"Welcome to Hell," Sheli said…
Grossman, a renowned novelist, as well as children's writer follows here a long tradition of intertextuality within Jewish religious texts, and such texts and secular contexts in writings and in speech. He quotes from Lea Goldberg familiar coinage to every Hebrew speaker including the protagonists, to express ideas of r irony and youthful perseverance.
back to: Hebrew Children's Literature and the Adult Learner of Hebrew , by Rahel Halabe
back to: ספרות ילדים בהוראת שפה נוספת למבוגרים , הד האולפן